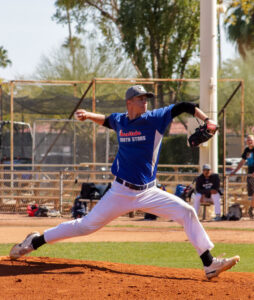 By: Evan Schmeizer
The Manitoba Northstars and Washington Blue Sox put forth an instant classic at a packed house at Palm Springs Stadium for the 2023 California Winter League Championship game. Manitoba emerged victorious 6-5 in a come from behind effort over Washington. Trailing 3-2 in the bottom of the eighth inning, the Florence Y'alls bound catcher, Cole Brodnansky, launched a grand slam clanking high off ofthe left field foul pole, erupting the hundreds upon hundreds of fans in attendance.James Cross doubled to the warning track in right-center field to bring the Bluesox within a run. Brayden Bonner induced a flyout to right field from Billings Mustangs bound Mitch Moralez with the tying run on third base to secure the win.
Jacob Tate, the newly signed Evansville Otter kept the Northstars guessing over seven strong innings in the start. He shut out Manitoba over the first six, but ran into some trouble while allowing a couple runs in the seventh inning. One of the newest Grand Junction Jackalopes, Trey Morrill, was equally impressive for the Northstars while shutting out the Blue Sox through six innings. He was lifted with nobody out in the seventh inning after running into trouble. The two lowest overall seeds coming into the nine-team playoffs upset each of the top overall seeds in the midst of their Cinderella runs. They truly gave the Coachella Valley a championship to remember.
That concludes a season that saw 36 players signed as of today. That number could continue to grow over the coming days and weeks. For now, baseball has concluded at Palm Springs Stadium until the Palm Springs Power kick off their 2023 Summer Collegiate season. The Northstars are the 2023 CWL champions.