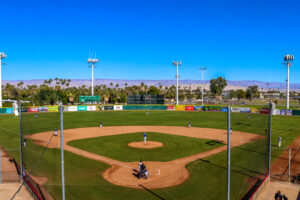 Player Registration is now open for the 2024 California Winter League. The California Winter League is the premier destination for free agent baseball players to showcase their abilities in live games and in front of pro scouts and managers in order to earn a pro contract before spring training begins. 2024 will be the CWL's 15th season, and over the last 14 years, over 850 CWL players have signed contracts to play professional baseball at all levels, including the Major Leagues. Players will report to Palm Springs Stadium on Monday, January 22nd. After two MLB showcase days on January 23rd and 24th, games will begin on January 25th. The CWL Championship will be played on Sunday, February 18th, with players departing Palm Springs on Monday, February 19th.
The 2023 CWL saw 43 players (and counting) sign pro contracts across five leagues, including all four MLB partner leagues. The importance of playing in the CWL will be magnified even more in 2024 as MLB organizations reduce the total number of players under contract in each organization from 180 down to 165. This means another 450 free agents will enter the free agent market place. While most CWL players, around 80% each season, have no professional experience and are recently graduated from college, the remaining 20% of players have pro experience, with CWL players in the past having experience ranging from the lowest levels of independent baseball (Pecos League), up to the Major Leagues. Overall, around 30%-40% of CWL players are signed to pro contracts every year.
In addition to providing playing time in front of MLB scouts, professional managers and coaches from all four MLB partner leagues, and international playing opportunities, the CWL also offers a top notch experience off the field as well. Housing, a catered meal each day, daily shuttle transportation, clubhouse manager services, gear and equipment, and on-site athletic trainers are all included with registration. All of these amenities ensure that players receive a professional-quality experience while at the CWL and are able to focus on performing to the best of their abilities over the course of the month-long CWL season. Playing time is balanced to give every player the best possible platform to perform and earn a professional contract. During the month, players stay at the Marquis Villas, a Hilton Vacations property in downtown Palm Springs.
Players can register now at californiawinterleague.com/register. More information on everything included can be found at californiawinterleague.com/join.