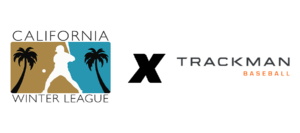 PALM SPRINGS, Calif – The California Winter League announced today that it has entered into a multi-year partnership with Trackman to record and distribute player data and analytics for all CWL players. Trackman uses optically enhanced radar technology to record dozens of results that occur during each pitch of a baseball game. In total to date, Trackman has tracked over 160,000 baseball games. The Trackman system is the industry standard when it comes to player data and tracking.
"Trackman reached out to us, actually at the request of a few MLB teams, and began discussions about placing a Trackman unit here at Palm Springs Stadium. With the 200 or so California Winter League players we see every winter, plus the 300 or so additional players who play here in the summertime, it made sense to have a Trackman unit installed so we can gather extensive data for our players internally and so MLB organizations have access to all data collected here at Palm Springs Stadium,' said California Winter League General Manager Justin Reschke.
Previously, the CWL had used FlightScope to gather player data. FlightScope collects similar data to Trackman, however the Trackman system is a more permanent solution and collects a wider range of player data.
"The biggest advantage that Trackman has, in addition to its advanced data collection capabilities, is their relationship with Major League Baseball. MLB is the end goal for every player who attends the CWL and Trackman is installed in all 30 MLB stadiums, plus the majority of minor league stadiums and even dozens of college programs. All 30 MLB clubs will now have access to data on every single CWL player. This is a tremendous advantage for CWL players, to have their data collected and available to MLB teams," Reschke continued.
The California Winter League is the longest running professional showcase league of its kind. Since its inaugural season in 2010, the CWL has seen over 850 of its players sign professional contract. Each year, it is the premier destination for free agent baseball players who are looking to be scouted and signed. The 2024 season begins January 22nd with players reporting. Player registration is currently open at californiawinterleague.com for players who are looking for professional opportunities.
TrackMan is used by all 30 Major League Baseball teams, top amateur organizations, prominent collegiate summer leagues and is embedded in more than 500 stadiums around the world.